The moment you realize the person who is responsible for protecting you has now become the offender under the protection of a badge is frightening concern. How safe are we? The topic of police brutality has exponentially grown over the past decade and continues to grow. The deaths of Michael Brown in Ferguson and Freddie Gray in Baltimore made headline news causing uprising and placing the spotlight on excessive police force. However, police brutality happens everyday in America. If you were the victim of police brutality, it may be wise to seek the help of a police brutality lawyer today.
What is police brutality?
It's a common term and well known among society but the topic is still considered taboo. A general definition would be the act of physical violence perpetrated by a police officer on a restrained or otherwise helpless suspect. This type of police misconduct can be displayed in the following ways:
Extreme physical violence
Degrading strip searches
Sexual assault
Coercion/blackmail
Racial profiling
If you know someone or are you personally have been a victim of police brutality you have every right to take action after the incident. Although they may have a badge justice can still happen. Ahead are a few suggestions on what steps to take next:
Document details or information that can identify the offending officer immediately (i.e. officer's name precinct, badge/shield number, patrol car number, description of his physical features)
Take photos or videos of any physical injuries, damaged property or torn clothes. If you did not take the photo or footage yourself reach out to gain access as this will be the best evidence in court.
Seek medical and psychological assistance to start the healing process.
Get the names of any witnesses at the scene.
Speak to a lawyer who is experienced with handling police brutality cases immediately. You can seek out a database that presents several options for you to find the best lawyer
How Many People are Killed by Police Each Year?
There is no official database available to the public that is kept by the government. However, through crowdsourcing, some data has been assembled. Here are some statistics.
People Killed Since 2011 by Race

People Killed by Police by Gunshot 2011-2015
People Killed by Police by Taser 2011-2015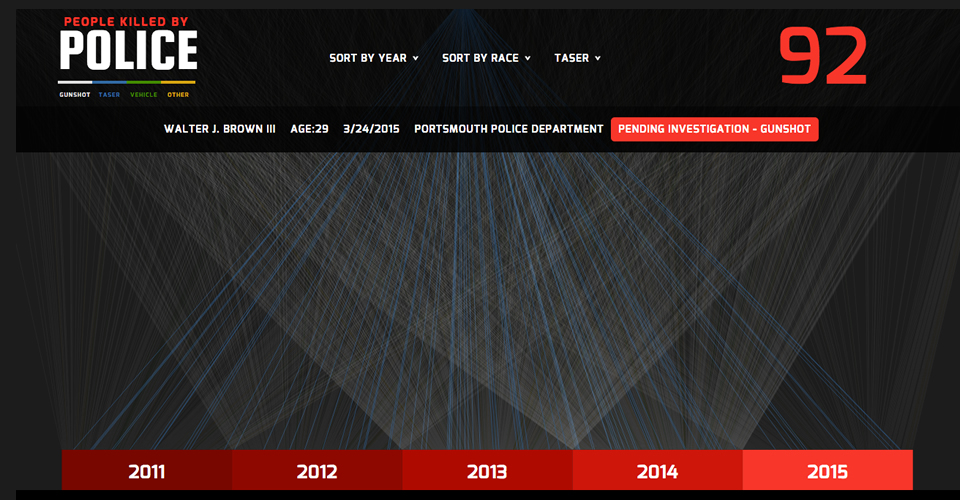 People Killed by Police by Vehicle 2011-2015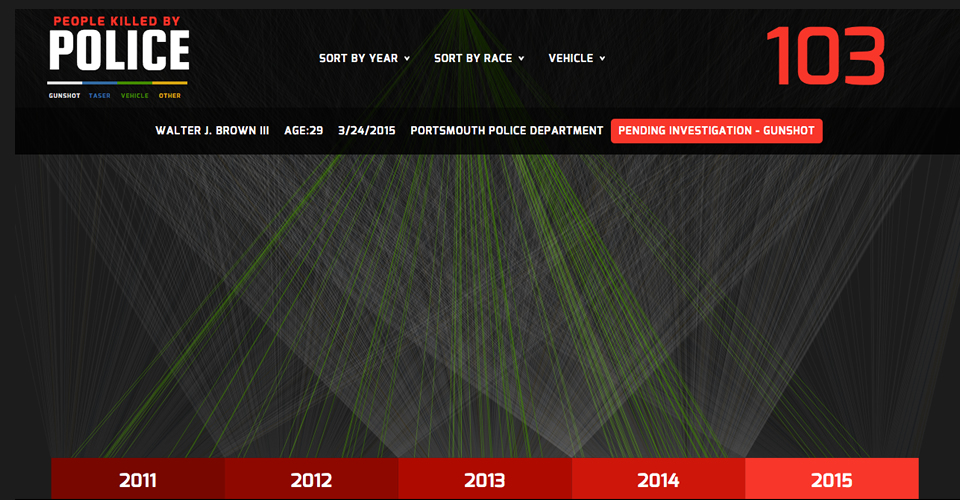 The charts where these images were taken from can be seen by clicking here along with a beautiful yet haunting data visualization of people killed by police.
If you have been the victim of police brutality, we'd like to hear from you in the comments below. Let us know where you were, what happened and any other information you can provide.
2015 Deaths By Police in the U.S.
June 2015, Stonewall, Mississippi, Jonathan Sanders
An attorney for Sanders's family said an officer choked him to death with a flashlight. But police chiefs denied this, and said he sustained injuries during a physical fight involving no weapons. Sanders had been exercising his horse before the encounter with the officer, according to his family.
June 2015, Des Moines, Iowa, Ryan Bolinger
Bolinger was shot after exiting his vehicle and moving towards a police car, according to authorities. He had stopped abruptly in a U-turn after being pursued at low speed. Police said the chase began when he drove up closely beside a separate traffic stop, got out of his car and 'danced around'.
May 2015, Long Beach, California, Feras Morad
Friends said Morad, a nationally ranked debater who was preparing for university, had a bad reaction to psychedelic mushrooms and jumped through a second-story window. Police said he was shot after failing to obey commands to stop moving towards officers even when shocked with a Taser.
April 2015, Baltimore, Maryland, Freddie Gray
Gray died from injuries sustained during a prolonged ride in a police van while handcuffed and shackled on the floor. He was arrested after catching the eye of a police officer and running away. His death prompted protests and rioting in Baltimore and elsewhere. The six officers involved in his arrest were indicted on criminal charges including murder.
March 2015, Cleveland, Ohio, Brandon Jones
Police said Jones broke into a grocery store and tried to escape with cigarettes and Canadian coins. Two police officers confronted him on the sidewalk and tried to arrest him, but a struggle ensued. One fired a shot that hit Jones in the chest.
February 2015, San Francisco, California, Almilcar Perez
Police said Perez-Lopez wielded a knife while trying to steal a bicycle. Plainclothes officers shot him when he allegedly ignored their demands to drop the knife. Protesters later said he wouldn't have understood the commands because he did not speak English. Witnesses contradicted the police account, saying Perez-Lopez was trying to get his phone back from the owner of the bicycle.
February 2015, Hanover , Pennsylvania, David Kassick
Kassick got into an altercation with a police officer after fleeing a traffic stop. He was lying down when he was shot twice in the back.
January 2015, Longview, Texas, Kristina Cougnard
Coignard called 911 from the lobby of the Longview police department asking for help. A tussle with police officers then occurred and she was shot four times after lunging at officers with what police described as a butcher's knife. Coignard's family have said the officers did not do enough to diffuse the situation before firing. CCTV footage of the incident has raised further questions about the officers' use of force.
January 2015, Savannah, Georgia, Matthew Ajibade
Police responded to a domestic incident after Abijade's girlfriend called 911. Abijade was charged with battery and taken to county jail. His girlfriend said she warned officers about Abijade's mental health issues and handed them his medicine. According to the police account, Abijade assaulted three officers and was placed in a restraint chair. He was later found dead in his cell. Nine officers have been fired as a result of the incident and three people indicted with manslaughter.